Best employee gift ideas this Covid Christmas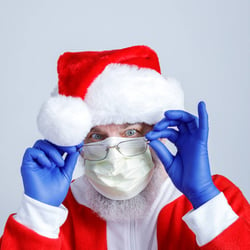 2020 and 2021 have been the strangest years of our existence. It has flipped everything as we know it upside down and required some very ingenious improvisation. Choosing a unique and personalised Christmas gift to show your staff appreciation can be challenging enough. Throw Covid into the mix and it's another kettle of fish.
Christmas is all about togetherness and fun. And in these times of social distancing and when most people are still working from home, now more than ever it is important to look after our employees, support our customers, and aid our communities.
We've put together a list of personalised gift pack ideas you could arrange to be delivered to your amazing staff's door to say a very special thanks this Covid Christmas.
Home Office Survival Pack

Desk plant
Soft-touch journal
Noise-cancelling headphones
Blue tooth speakers
Chocolate
Coffee sachets
Air-charge mouse pad
Power banks
Coffee mug warmer
Electronic cleaning wipes

Pampering Box

Aromatherapy candles

Chamomile tea

Wine

Cheese and crackers

Facemasks

Hand and body lotion

Diffuser

Bathrobe

Chocolates

Book

Self Sufficiency Pack

Cheesemaking kit
Agriculture grow kit
Multi toolset
Beer brewing kit
Herb garden
Garden tunnels
Reusable bags
Gloves
Soap making kit
Weather station
Masks

Immunity Boost Gift set

Manuka honey

Therapeutic heat pillow

Cleansing wipes

Rescue tea for relief and recovery

Essential oil pillow spray for sleep & relaxation

Vitamin C immunity support supplement

Herbal immune tea

Craft soap
Other ways to show your staff appreciation is with a gift voucher to a restaurant, Uber Eats, hotel, family zoo pass or wine tour. Not only will you be backing our tourism sector at this time, but your support also reminds operators that you're ready to visit them as soon as you can.
Your customers are the foundation of your business and your staff is the internal structure, so make them feel valued, respected and important because they are. Without them, your business wouldn't be possible.
The Abtrac team are writers, designers, engineers, consultants and analysts. Together we dream, build and deliver an amazing software solution for professional services.