MYOB Add ons: Abtrac's Job Management Software & the MYOB API
You won't find every supplier of Job Management Software flagged as "Certified" in the MYOB add ons listings. When MYOB certifies an add on it means it's passed their rigorous testing and is recognised as an accomplished user of the MYOB API.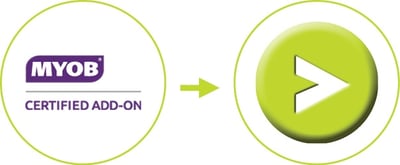 In fact, in the professional services niche, for architects, designers, professional engineers, land surveyors, cost estimators, quantity surveyors, project managers, property valuers, planners, accountants, bookkeepers, business consultants and PR agencies and many more . . . . . .
Abtrac is the only one!
We're justifiably proud that our Abtrac Job Management and Invoicing Software is recognised as the complete production and revenue management system for professional services business. Coupled with MYOB Accountright or MYOB Essentials, it's the integrated system you need to use, to ensure your business is as productive and profitable as it can be.
Synchronise clients and jobs, invoices, payroll and more, between Abtrac and MYOB using the many APIs touch points between the two packages to keep on top of every dollar coming and going. And to ensure that more dollars come in than go out!
Click here to read more to find out how Abtrac and MYOB Accountright and Abtrac and MYOB Essentials work together so beautifully.
Or try it for yourself
The Abtrac team are writers, designers, engineers, consultants and analysts. Together we dream, build and deliver an amazing software solution for professional services.