Did you know Abtrac has 4 different timesheet screens which can be customised by you, to suit your business?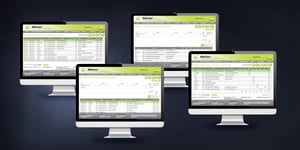 The timesheet entry screens are the most used areas of Abtrac. And within them, you have complete control over what data is seen by all users, and what rules they have to follow when entering timesheets.
Each user can choose their preferred layout option to suit their way of working.
Your businesses Abtrac Administrators set the overall rules about what can and cannot be seen, and what has to be entered by users on their timesheets. And on a job by job basis job managers can add additional rules to ensure the data is captured to suit their project management needs.
Read more about timesheet rules here

Abtrac is easy to use, capturing every billable minute allowing us to gauge profitability of both projects and people enables programming, and resource allocation. We are only just beginning to realise the potential of this invaluable tool.

Deborah W | SBA Architects | Sydney, Australia
You and your staff have the ability to track their time and resources from anywhere, anytime on any web-enabled device.
So whether your employees are sitting at their desk or on their way to their next appointment, they can log in and enter their time, check out the status of a job, update a client's phone number or verify their schedule for next week.


If you or someone you are representing would like to talk more about how Abtrac can help you manage your business please feel free to reach out.


Abtrac is your all-in-one project management software that simplifies timesheets and invoicing, freeing up time for the work that matters most.



No credit card required. No lock in contracts. Outstanding "real person" support.
RECOMMENDED: