AbtracOnLine is only accessible with a current username and password. Your username must be a valid email address and we recommend choosing a secure password (there are tips for secure passwords in this article).
If you are having problems logging in, if you are starting AbtracOnLine live after a trial, or if you are converting from Abtrac5 you may need to confirm or change your access details.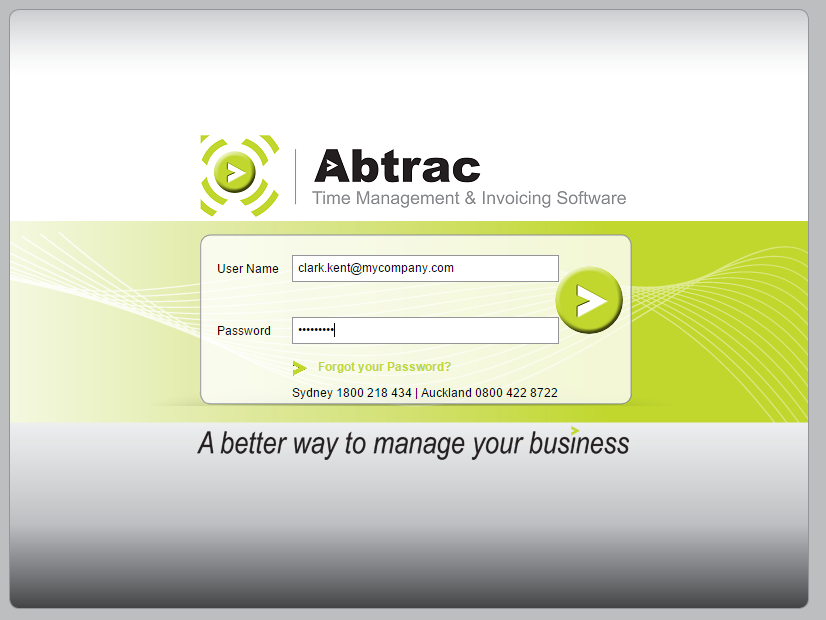 (If you are looking for help accessing the desktop version follow this link for Abtrac5 access rights and login settings).
If you are starting AbtracOnLine live after a trial, or if you are converting from Abtrac5 your username will have been automatically generated using a combination of first+last names+company name.
These temporary usernames will need to be updated to current (valid) email addresses. Your username is used for the password reset feature and also as your sender address when emailing items from Abtrac. Checking your username is a current email address ensures that these features work as expected.
---
Resetting Login details: For a logged in user

From Home choose > User Specific Settings (Edit My Settings) and then from the User Specific Settings Screen > choose Change Login Details.
At the Change Login Details screen you can edit your username(email address) or password, or both.
Once a change is made you'll be automatically logged out of the system and will need to log back in with your new credentials.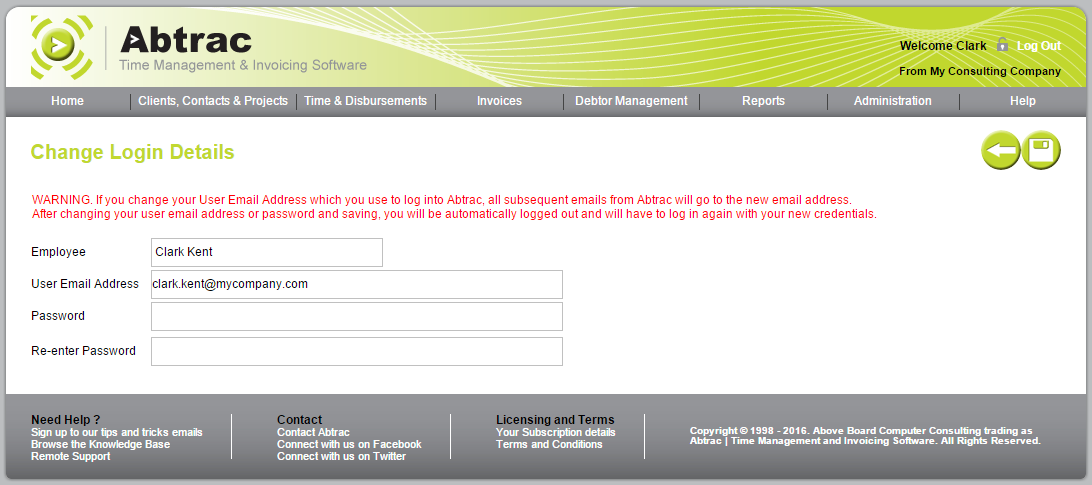 AbtracOnLine – Change Log In Details (User)
Tip:

Whilst in User Specific Settings it's a good idea to update the email Bcc address too. This is not related to your login and can be a different email address to your username (e.g office@mycompany.com etc – as such it will not automatically update) It is used to send copies of any invoices/reports emailed from Abtrac.

AbtracOnLine – User Specific Settings – Bcc Email
---
Resetting Login details and defining access rights: For an administrator

If you are getting started with AbtracOnLine, or converting to the cloud from Abtrac5 you may wish to update usernames and passwords for all staff at an administrative level.
From Edit Users an administrator can also specific which user groups employees belong to. (User groups allow menu options in Abtrac to be restricted or enabled at login, these are based on pre-selected User Groups and Access Privileges).
From Home choose Administration > Employees > Users.
An administrator can then view a list of all current employees and logins (usernames) and is able to edit records as required.

AbtracOnLine – Admin – Edit Users

AbtracOnLine – Admin – Edit User and Group Privileges
N.B. Although the password field is blank in the Edit User screen the Employees current password will apply. Entering a new password here will overwrite any pre-existing password set by the user.
---
Reset Password
Provided your Username is a valid email address you can reset your password directly from the Login screen with the Reset password button. You'll be sent an email with a temporary password to login and will then need to update your password from User Specific Settings Screen > Change Login Details as usual.